Rules of Magnum 4D of MAlaysia lottery
Betting Malaysia lottery is similar to Thai government lottery, but the number betting will have only 4 numbers. Thus, the 1st prize lottery rate in Malay has a higher percentage than the Thai government lottery. There will be 6 Thai government lotteries and Magnum 4D lottery will be purchased in 2 types:
Buy with a chance to win every prize (big), buy 1 item and win from the smallest to the largest; it is suitable for those who want to win many prizes, but the prize will also be less.
Buy in a chance to win prizes 1 to 3 (small), buy 1 and win only the first prize to the third; it is suitable for those who are sure that they will win bigger, but the prize is also large.
For Malaysia lottery also known as "Magnum" will be awarded every Wednesday, Saturday, Sunday and a special prize will be drawn on Tuesday (some weeks), which will announce the lottery results at approximately 6:00 pm onwards. The betting will be bet on 4 digits with a total of 23 prizes as follows.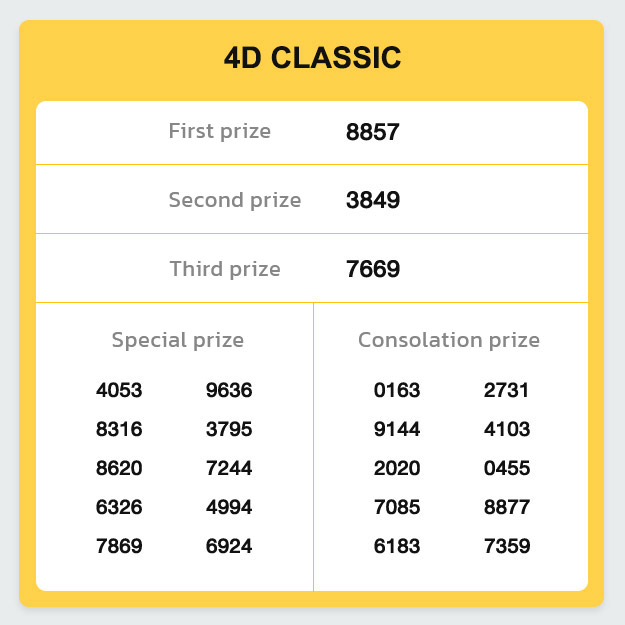 1st prize is called A1 = 1 prize.
2nd prize is called B1 = 1 prize.
3rd prize is called C1 = 1 prize.
4th prize is called Special = 10 prizes.
5th prize is called Consolation = 10 prizes.
To bet Malaysia lottery
Malaysia lottery opens to bet on online lottery betting websites for 2 and 3 digits like Thai lottery. The results of the 2 and 3 digits prizes will be taken from the 1st and 2nd prize numbers of the Malaysia lottery or Magnum 4D as in the picture.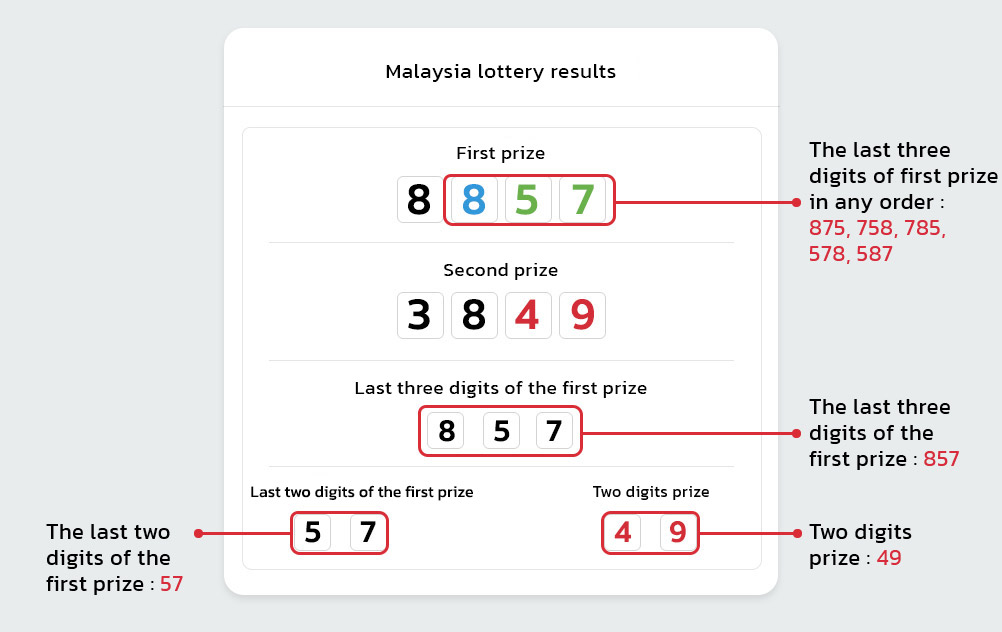 From the picture, the last three digits of the first prize are taken from the last three numbers of the 1st or A1 prize, Two digits prize are taken from the last 2 numbers, the 2nd prize or B1 as follows.
The last three digits of the first prize : 857
The last three digits of first prize in any order : 857, 875, 587, 578, 785, 758
The last two digits of the first prize : 57
Two digits prize : 49
Any number that match the last three digits of first prize : 8, 5, 7
Any number that match the two digits prize : 4, 9
---